Institute for Entrepreneurship and Economic Development conducted survey on the challenges faced by women in business during the COVID-19 pandemic. The survey was conducted within the project 'Support for the transition to the online economy for women entrepreneurs and less developed businesses', supported by the United Nations Development Program.
The aim of the survey is to identify problems, support mechanisms that are available and identify possible new solutions for maintaining business in order to further support the development of women's entrepreneurship in Montenegro.
The conducted surevey included 58 women entrepreneurs, of all ages, in which the largest percentage of women are aged between 25-35 years (32.8%) and at least over 65 years (3.4%).
Below are parts from the survey.
During the COVID-19 virus pandemic, women entrepreneurs faced many challenges, the most prominent of which were: complete cessation of activities (51.7%), reduced volume of business activity (43.1%), declining demand and sales of products / services (41, 4%), liquidity problems (31.0%) and difficulties with debt collection (29.3%).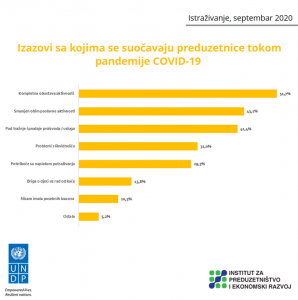 When we talk about the consequences that women faced during the pandemic, 74.1% stated the main consequence was a decrease in income. Also, they had a big problem with settling tax liabilities / financial obligations / debts (50.0%), cancellation of contracted jobs (48.3%), as well as reduction of the number of employees (15.5%). However, among them there are those for whom this period passed without consequences, only (5.2%).
In order to overcome the challenges and difficulties, women have taken numerous steps, including approved wage subsidies (43.1%) and temporary suspension of business activity (34.5%). In addition, some of them were approved loan rescheduling (10.3%) as well as deferred settlement of tax liabilities (6.9%).
When asked whether they asked for help from private and public sector institutions, (58.6%) women stated that they did not, and (41.4%) that they did. Most often, they sought help from the relevant ministry (41.7%) and the Investment Development Fund – IRF (41.7%), as well as commercial banks (33.3%).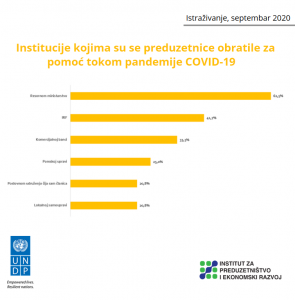 The help of digital tools in most cases did not help women to increase their workload, but was the same (46.20%), while 30.8% of women who stated that their workload increased did not agree with that fact. About 23% of the women surveyed said their workload had declined.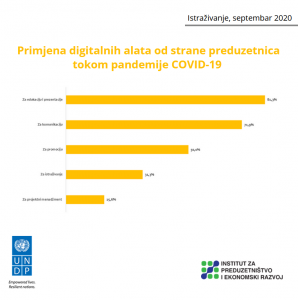 The importance of digital technologies is indicated by the fact that 53.4% ​​of women stated that their use is very important for their business, while a slightly lower average of 39.7% stated that it is moderately important, and only 6.9% of surveyed women stated that this tool is not important to them in business.
The most common reasons that indicate insufficient use of digital tools are insufficient information and knowledge of how and how to apply them in their work, as well as lack of free time. Also, they stated that the activity they are engaged in does not require the use of digital tools, but exclusively depends on the face-to-face way of communication.
As key things that would help them recover and continue their business, women stated that the financial support of the state would mean the most to them (it refers to various types of support, such as rescheduling loans, continuing subsidies, giving interest-free loans, etc.) and long-term tax relief period of time. They also stated that it would mean better promotion and opening of borders.